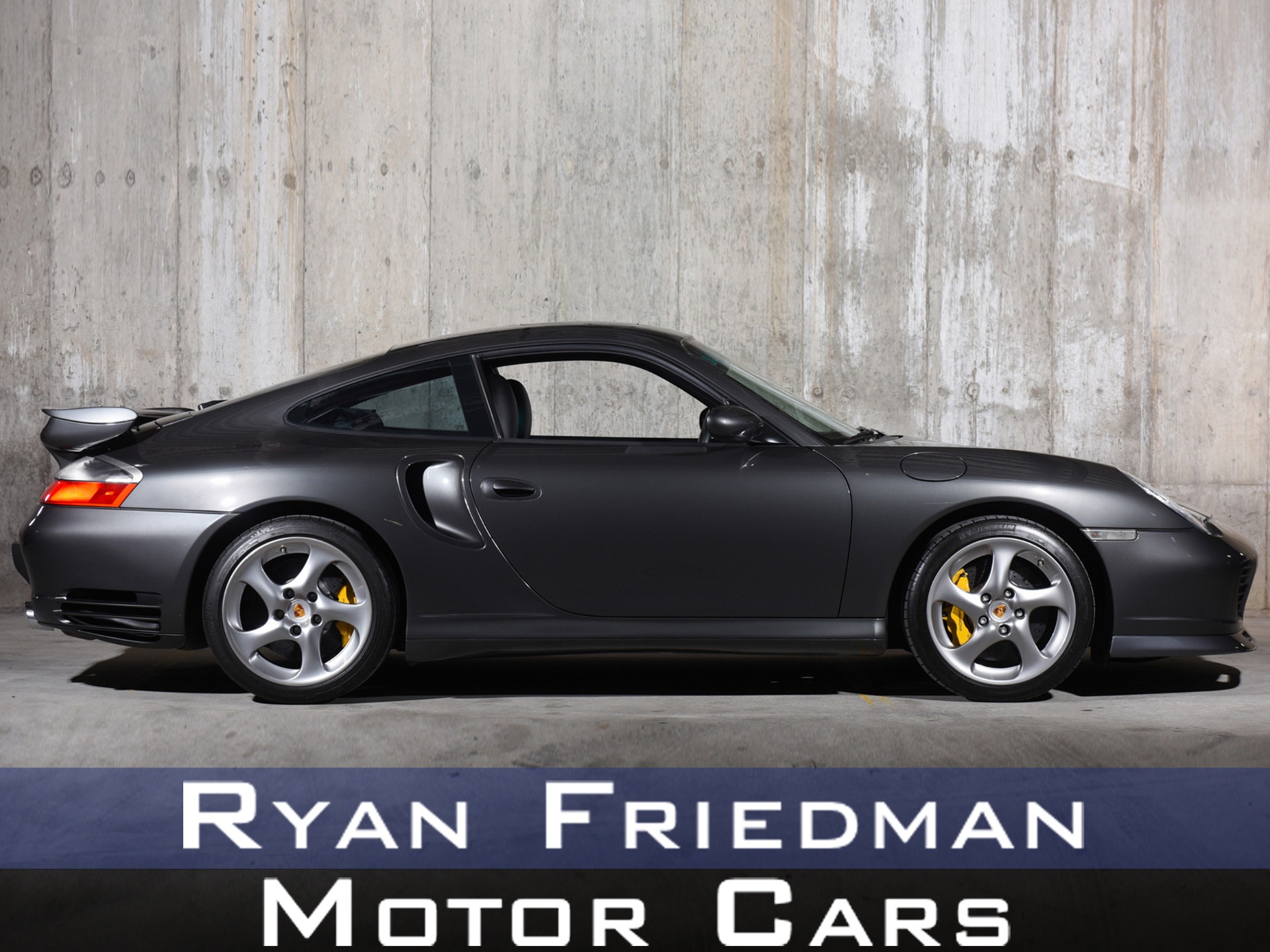 | | |
| --- | --- |
| Year: | 2005 |
| Make: | Porsche |
| Model: | 911 |
| Exterior Color: | Gray |
| Interior Color: | Black |
| Bodystyle: | Coupe |
| Stock#: | 599 |
| Mileage: | 32,713 |
| Engine: | 3L TT H6 double overhead cam (DOHC) 24V |
| Transmission: | Manual |
| VIN: | WP0AB29915S685133 |
| Type: | Used |
2005 Porsche 911 (996) Turbo S 6-Speed Coupe: Produced for only one model year and signaling the end of the 996 Turbo's era was the crown jewel Turbo S! Boasting size increased twin-turbochargers (providing an additional 30-hp over the standard Turbo) coupled to the 911 GT1-derived engine, a revised ECU, enhanced intercoolers, a strengthened 6-speed manual transmission (to better handle the additional torque as generated by the larger turbos), and the unsprung weight-reducing and heightened handling inducing Porsche Ceramic Composite Brakes, all provided for an immensely emotive performance experience and with a worldwide count of 1,563 examples having left Stuttgart and only 186 Turbo S manual coupes having entered the U.S, positions the Turbo S in being an exceedingly scarce and incredibly profound variant of the modern-era 911 Turbo.

It's rather obvious that the 996 Turbo S makes for a very rare car, even more so for units equipped with a manual as it stands as the last 911 Turbo S to not only have had two transmission choices but also to have a manual linked to the iconic Mezger engine, characteristics that are void in Turbo S 911s proceeding the 996 Turbo S, as these later models only come in PDK with the DFI engine; however, this staggeringly stunning 32, XXX-mile example catapults the rarity of the 996 Turbo S into an exospheric-level of exclusivity! With its factory specified Turbo Aerokit, and exterior finished in the infrequently seen Slate Grey Metallic (which is a sensationally dynamic color hue that looks absolutely phenomenal when situated underneath direct lighting and is even more intriguing when stationed in shaded environments), along with a cabin upholstered in Black Full Leather, combine for a specification that allows for this gorgeous specimen to be the only one of its kind that is sure not to be found replicated elsewhere; truly awe-inspiring and supremely special!

It has an overall condition that is reminiscent to that of a unit that displays less than 5,000 miles on its odometer; with the possibility of finding a cleaner one being next to impossible, bears a full-service history, displays a Clean CARFAX Report, left the factory with an original MSRP of $149,930, and was specified with: Heated Front Seats; Lumbar Support-Left Seat; Black Full Leather; Thicker Steering Wheel; Black Mats - Porsche lettering; Stainless Steel Exhaust Pipes; Turbo Aerokit; Instrument Panel Alu. Look; Sport Shifter; 18-inch Sport Techno Wheel; Porsche Crest in Headrest; Lowered Seats (-10 mm); Alum/Lthr Shifter/Brake Handle; and Custom Tailoring.

The 996 Turbo was developed during a time when the driving experience wasn't overshadowed by a suite of electronic enhancements and features minimal driving aids; it encases the coveted Mezger engine, developed by the late Hans Mezger, that derived from the legendary 911 GT1 race-car and offers rampant (this experience is welcomingly heightened in the Turbo S), race-track performance that's optimized for everyday usability; the 996 Turbo offers a more analog driving experience and is more compact, as opposed to its Turbo successors; it's modern with gran-touring-like comfort, but yet has a traditional mechanical feel that's not readily available in cars today, its "just-rightness" is off the charts!

For more information on this extremely rare and hyper alluring 2005 Porsche 911 Turbo S 6-Speed Coupe, call and/or text us now at (516) 888-9000/(516) 784-9619; we're authentic motorcar aficionados, let's chat!