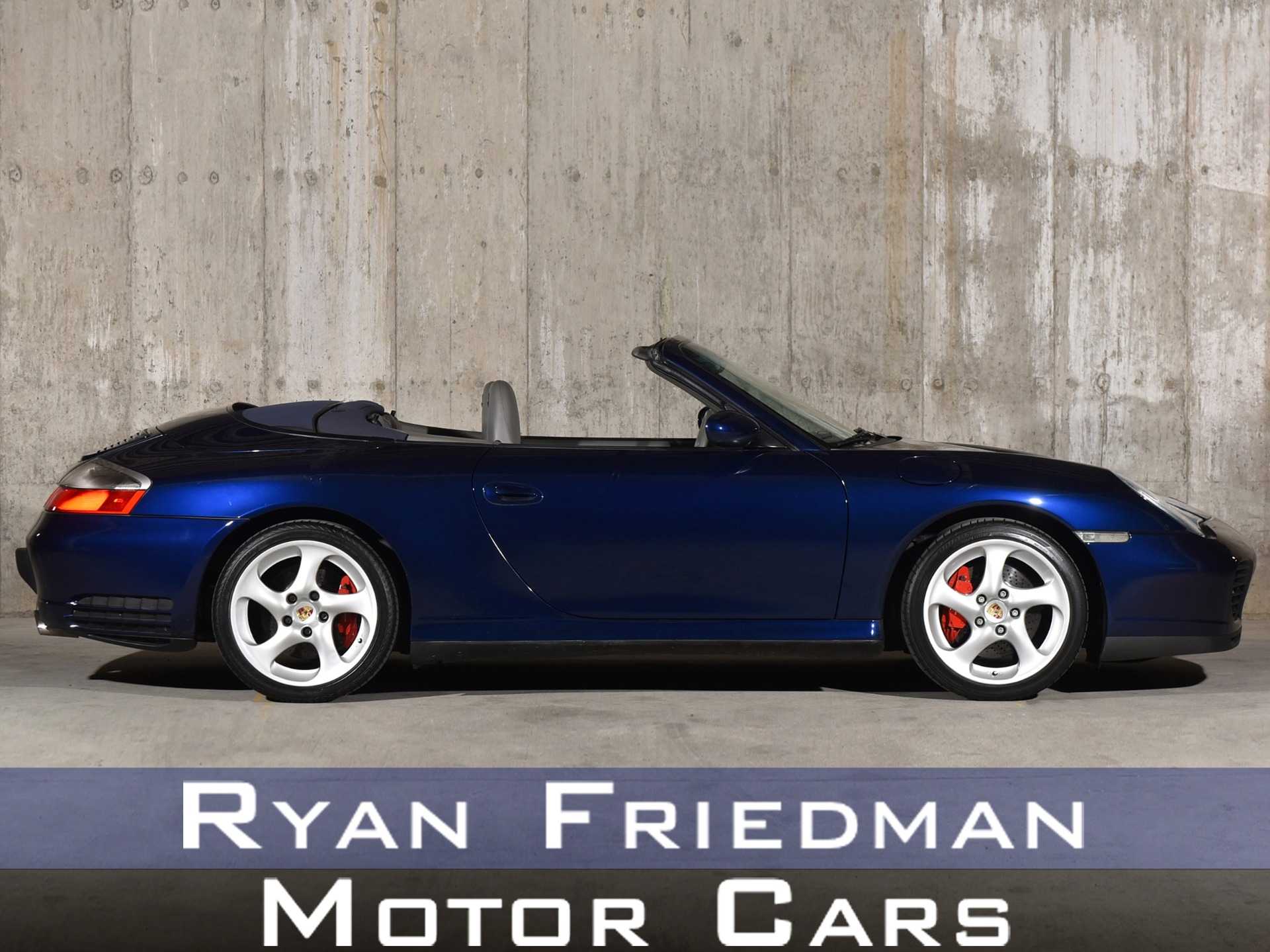 | | |
| --- | --- |
| Year: | 2004 |
| Make: | Porsche |
| Model: | 911 |
| Exterior Color: | Lapis Blue Metallic |
| Interior Color: | Graphite Gray |
| Bodystyle: | Convertible |
| Stock#: | 455 |
| Mileage: | 52,950 |
| Engine: | H6 3.6L |
| Transmission: | M |
| Type: | Used |
2004 Porsche 911 Carrera C4S 6-Speed Cabriolet: Produced for the model years of 2004 and 2005, the cab is an even more attractive and limited variant to one of Porsche's greatest 911 configuration sensations! Experienced by only 1-previous owner, it features desirable equipment (front heated seats; a body-colored center console; carbon trim; bose audio; plus more), displays a low mileage of 52,XXX miles from new as well as a Clean CARFAX Report! With its Blue top retracted, exposing the contemporary Gray interior, its sensual wide-body comes even more to life and becomes even more pronounced by way of its alluring Lapis Blue finish that subtlety intensifies its beautiful proportions! This splendid specimen benefits from a recent and complete servicing rendered by our in-house Porsche tech with 30 years of expertise (servicing specifics are available upon request)!

Why It's Special: The C4S Cab only had a two-year production run, with a worldwide production total of 5,757 or so units. Initially debuting in 2002, the 996 C4S marked the return of the 'S' version and wide-body, 'Turbo-Look', for the 996 chassis; as this was last witnessed on the 911 993's '2S' and '4S' Carreras (the 996 C4S currently stands as the last Carrera to 'factory feature' the Turbo's styling). Featuring the 996 Turbo's wide-body, front and rear bumpers, wheels, turbo specific all-wheel-drive, suspension, and braking system, but sans the turbo's rear spoiler, twin-turbocharged powerplant and weight (the manual-equipped 996 Turbo Cab's est. weight is 3,660 lbs., whereas this attractive C4S Cab weighs in at approx. 3,411 lbs.); the C4S instead sports a naturally-aspirated flat-6, the instantly recognizable rear reflector strip (the strip along with the iconic wide-body are pure Porsche styling characteristics that are now standard issue on the 911 992), and the deploying Carrera-style spoiler. With an even sleeker appearance, even more so in Cab guise, and naturally aspirated vigor, the C4S offers the Turbo's 'look' and near driving dynamics but in a package that is sensuously simplified, wholesome, and analog! 911s have always proven to be visually stimulating, however, the 996 C4S is by far the prettiest 911, perhaps, ever.

For more information on this attractive, rather limited, and desirably equipped 2004 Porsche 911 Carrera C4S 6-Speed Convertible, call and/or text us now at (516) 888-9000/(516) 784-9619; we're authentic motorcar aficionados, let's chat!